When The Mess Causes A Health Risk, It's Time To Call Biohazard Cleaning Specialists.
Our certified technicians can handle the jobs others won't. Using PPE and superior biohazard decontamination equipment, we effectively disinfect bacteria and viruses. Our team clean up materials that may pose a serious health hazard. Just a few of the bio hazards we clean include:
Blood and bodily fluid disinfection

Virus decontamination and protection

Crime scene cleaning

Hoarding cleaning

Sewage clean and sanitization

Odour control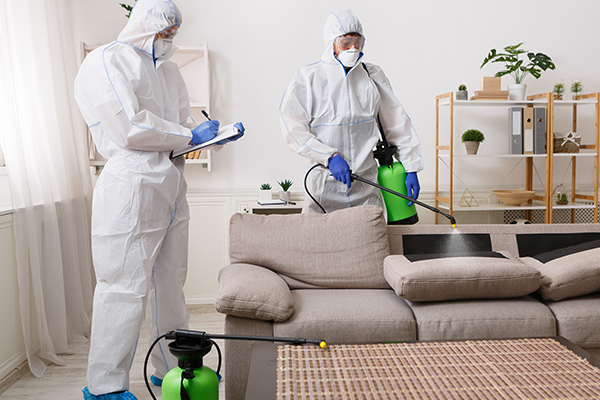 Traumatic Event Cleanup
Life can get messy sometimes. For the hard times in life, our house cleaning services after death will ensure a property is decontaminated thoroughly. Our team are discreet and sensitive to handle these tricky situations with tact and respect for the victims.
If the event is covered by insurance, we can arrange direct billing for a smooth and efficient service.
Sewage Leakage
A sewage backup isn't just unpleasant – it should also be considered an emergency with urgent action needed. The water can be host to a number of viruses and bacteria with serious health implications.
Our team are equipped with specialist cleaning equipment and PPE to handle the job.
Hoarding
Anyone who has seen the realities of hoarding knows it is much more serious than reality TV. Hoarders don't just collect knick-knacks; they often hoard biological waste such as rubbish, feces, urine, and chemicals. Animal waste may also be a problem for hoarders.
Our team can discretely offer a thorough cleanse of a hoarder's environment. We will sort through the items and waste and arrange for waste removal. A thorough cleanse, disinfection and odour-removal will be undertaken to restore a hoarder's space to a livable standard.
Mould & Mildew
Many kiwis have lived in a leaky home – it's a sad reality of life in New Zealand. These homes are all over the country and one of the tell-tale signs is mould and mildew. Mould can also be a result of poor ventilation.
Mould doesn't just damage property; it can also have significant health implications. When you live in an environment with a mould problem, you are constantly breathing in the spores. Theses spores can produce allergens and irritants that can cause respiratory problems.
We offer mould remediation and restoration. Professional mould removal ensures a safe environment for family using strict cleaning procedures.
A clean place is a safe place. Call now.
The professional cleaners at All-Ways notice the finer details, and a quality clean is more affordable than you may think. For a free no-strings-attached quote, contact us today.
As a construction company who deals with emergency response work in the residential and commercial field, we require reactive responses from our partnering trades. Whether it is flood restoration, general cleaning or fire cleans, these works are never planned and we require specialists on the ground with minimal notice. We came across All-Ways as we were struggling to find anyone capable of completing a fire clean in the greater Bay of Plenty. Their response, lead in times and communication were great but best of all, it was the best fire clean we had seen. This meant we were able to reduce our clients repair costs by half. Since our initial engagement we have used All Ways on a number of different projects and will continue to do so in the future.
We use All Ways cleaning on a regular basis in three areas - Carpet Clean, Upholstery clean, Regular domestic / office clean. We have never had any issues or concerns with the services provided and we find the team to be professional while being friendly. It takes something to clean in an environment while staff are working in the same area. They do this with ease and with a smile. We enjoy working with all of the team from the office staff through to the people who visit us at our home / office. Nothing is too hard or difficult, they simply check in to make sure we are ready for the clean each time they come in and then regularly ask how we have found the work completed. I highly recommend the team at All Ways, give them a go, you will not regret it.
All-Ways Property and Cleaning Services have been contracting to Responsive Maintenance since 2010 across the Bay of Plenty, and providing excellent service throughout that time on the maintenance of over 2000 rental properties. We have found their services to be of the highest level, they are always ready to help at a moment's notice, and understand and accommodate our needs to the best of their abilities. They have an amazing team of staff carrying out the physical work, who provide fantastic customer service, and are complimented by a great administration and management team who know exactly what we need from them and are incredibly helpful even in the most difficult of situations. We would be happy to recommend All-Ways Property Services to anyone looking for a first-class result from a great team.